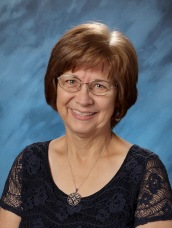 Janelle Miller
Kindergarten Teacher
Groups: All Staff,Elementary School
All About Me - Mrs. Miller - Kindergarten B Teacher (5-day program)
My husband, Jeff and I have been married for 32 years. We have 4 children and 5 grandchildren. I have been teaching for 18 years, this year marks the beginning of year number 19.
My favorite color is blue. My favorite thing to do is be with my grandchildren and enjoying family gatherings. I also enjoy sewing, reading, gardening and travelling with my husband. We purchased a motorhome this spring and already enjoyed 3 fun trips.
My favorite age group is from birth to 6. I find it fascinating to work with these little ones and watch them develop not only physicalls but also aquiring language. I love seeing the "lightbulb" of understanding light up the face of a child who finds out he/she can "read!"