At Nampa Christian Schools, we are teaching and training our athletes to compete with honor, to the best of their ability, and to the glory of Jesus Christ. Competition provides excellent teaching opportunities to build character and perseverance. With teamwork and respect to our opponents, we train our athletes to overcome life's challenges. We are committed to developing the students as a whole in body, mind, and spirit.
During the summer, many coaches have programs set up to help prepare our student-athletes for the upcoming school and athletic year. We have compiled that information into a single page for ease of access for everyone.
Please click here for the summer sports schedules (select the tab at the bottom of the document that corresponds to your sport). Changes and updates are still being made, so please check back regularly to ensure you have the most up-to-date information.
*Information for Elementary and Middle School Girls Basketball can be found in the Girls BB tab on the above document.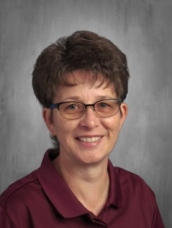 Tina Pelkey
Dean of Students & Athletic Director
About me
I graduated from Boise State in 1996 with a Bachelor of Science in the field of Physical Education and Health. I have been blessed to be part of the Nampa Christian family since 1996. Throughout my time at Nampa Christian, I have taught middle school and high school PE, along with various weight lifting and health classes. I have also coached high school volleyball, middle school and high school basketball, middle school track and high school softball. I have also served as the Athletic Director for both the high school and middle school.
I have been married 23 years to my wonderful husband Rich Pelkey. We have two children: Kortney(18) and Taylor (14). I have been so blessed to have our girls attend and be a part of Nampa Christian Schools.
I enjoy outdoor activities such as pickleball, badminton, softball, hiking and various other activities.
I am excited for another school year to help each child grow in their love for sport and various activities that they can participate in for a lifetime.