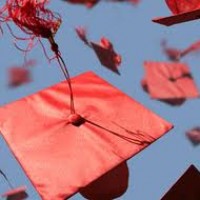 NAMPA CHRISTIAN CLASS OF 2012 PLANS INCLUDE EXCITING UNDERTAKINGS
May 24, 2012
Friday, May 25, 2012 at 7 p.m. the Nampa Christian High School graduation will take place at the NNU Brandt Center. For the fifty-four students graduating, highschool is not the end of their education, but rather a step towards the nextpart of their life with a wide variety of colleges and plans.
Two of the 2012 graduates, Sean Nixon (Eagle) and Muriel Shannon (Caldwell) have won the National Merit Scholarship Award. Sean Nixon will attend Baylor University in Waco, Texas. Muriel Shannon also won the National Merit Scholarship Award along with several other scholarships and will attend Cedarville University in Cedarville, Ohio.
While nearly 100% of the NCHS 2012 graduates planto attend college, Luke Carleton (Meridian) is likely to accept a recent offer to play for a semi-professional hockey team. Other student pursuits are likely to take them across the United States with a wide variety of interests. Lindsey Wilson (Nampa) is looking forward to pursuing her dreams of swimming on a college team at Northern State University in Aberdeen, South Dakota. Graduates Nicolas Russell (Meridian) and Tyler Christianson (Meridian) are interested in the field of aeronautics and intend to join Utah State.
It has not been without difficulty that some of the NCHS class of 2012has pursued their education to this point. One example is Andrew Rigenhagen (Nampa). He has battled a difficult illness of Crohn's Disease throughout his years in school since being in the seventh grade. Despite this difficulty,Andrew has kept a positive attitude and school staff have described him as being "extraordinarily bright and talented and someone who never gives up". He has plans to pursue a pre-college internship opportunity in California.
Another model of overcoming difficulty is the story of Life Ilunga (Kuna) whose family came over to the United States as refugees from Africa. Life is described as an "outstanding person" and despite the transition between countries she has overcome the difficulties to now be able to experience high school graduation with plans to pursue a college education.
Back